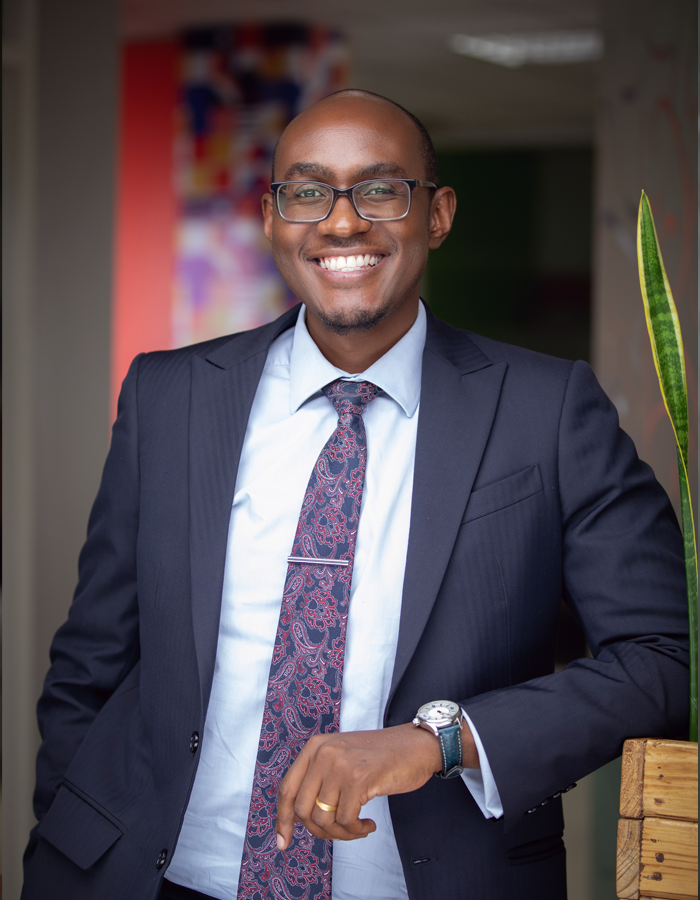 Kenneth Muhangi – Partner
Technology. Media Telecommunications. Intellectual Property
Kenneth has specialized in intellectual property law, technology law (with a bias towards  digital trade and fintech, data protection and privacy law, the fourth industrial revolution-drones, internet of things, artificial intelligence, big data, genetics) and telecommunications law. Kenneth holds a master's degree, LLM (International Commercial Law) from The University of South Wales, Bachelor's Degree in Law LLB (Hons) from Uganda Christian University and a Diploma in Legal Practice from the Law Development Centre.
In the area of intellectual property (IP) & technology, Kenneth is a renowned award winning Advocate, author and trainer and this has cemented his credentials as a specialist in the aforementioned practice areas. He has conducted specialized trainings in areas of ICT and IP such as, block chain technology, digital banking, digital trade & data protection among others. Kenneth represents and has advised governments & international entities such as Zipline, The World Bank, World Economic Forum, Ministry of ICT, Ministry of Science, Technology and Innovation among others. Kenneth is also the head of subject, intellectual property at Uganda Christian University and has also conducted lectures on Cyber Law at Makerere University, Law School.  He has chaired the ICT Cluster of the Uganda Law Society & is a member the Intellectual Property Cluster, Uganda Law Society. Kenneth is also a member of The Africa List, an exclusive community of next generation CEOs building Africa's top 100 companies, supported by the CDC Group.
Kenneth has advised the Government of Uganda on the integration of ICT into the adjudication processes for Courts of Judicature and advises the Ministry of ICT on innovation and ICT policy development. In the field of Artificial intelligence, Kenneth convened a working group for Uganda and submitted a report to WIPO on Intellectual Property Policy and Artificial Intelligence, 23rd June, 2020 and continues to advise and represent the Government of Uganda on AI & Policy. Kenneth also sits on the Committee on Management of Intellectual Property Assets under the Presidential Initiative on Banana Industrial Development.
Kenneth has convened and advises the E-trade association of Uganda, a body comprised of e-commerce companies operating in Uganda and the Internet Service Providers Association of Uganda, a body comprised of internet companies in Uganda.
Kenneth also represents Uganda at the 4IR Portfolio Communities of the Centre for Fourth Industrial Revolution of the World Economic Forum. The 4IR Portfolio Communities include AI, Blockchain, IoT, Digital Trade, Data Policy and Drones. Kenneth represents and advises Uganda on policy related issues arising from new/emerging technologies.
Kenneth is engaged by the World Bank to support the preparation of the African Drone Forum's regulatory track under WEF guidance.
The African Drone Forum (ADF) is a first-of-its-kind initiative to accelerate the delivery of safe, sustainable, high-impact rural to urban services that harness the potential of autonomous drone technologies. The ADF is designed to demonstrate how a future influenced by UAS will look like by showcasing the broader categories of potential Unmanned Aircraft Systems (UAS) use-cases and may facilitate a united rulemaking direction and help create an African market for UAS. Current partners include UNICEF, World Economic Forum, World Food Program, John Snow Inc., Tanzania Flying Labs, and others.
In 2018 and 2021, Kenneth featured in Uganda's top 40 under 40. (Survey conducted by New vision-Uganda's largest Newspaper)
Kenneth has also been recognized as a leading Intellectual Property lawyer by the World Trademark Review Guide, WTR1000 (2019, 2020, 2021) and was a finalist, Partner of the year at the 2019, Africa legal Awards. At the same awards, KTA was awarded the coveted Africa's Intellectual Property (IP) Team of the Year in a closely contested category that featured Africa's top IP Firms. The firm was nominated in other categories such as, Specialist Law Firm of the Year and Boutique Law Firm of the Year.
In 2020, Kenneth was recognized as Africa's Male partner of the year at the 2020, Africa Legal Awards and among the top 50 leading in legal innovations in Africa at the Africa Legal Innovations Awards.
Technology Law
Data Protection and Privacy
Artificial Intelligence
Genetics
Drones & Tomorrow's Airspace
Intellectual Property
Telecommunications Law
Fourth Industrial Revolution
LLB, Uganda Christian University
Post Graduate Diploma in Legal Practice, LDC – Kampala
LLM, University of South Wales
Member, Young Lawyers Committee – Uganda Law Society
Member, Intellectual Property Cluster- Uganda Law Society
Uganda Law Society
East African Law Society
The Africa List