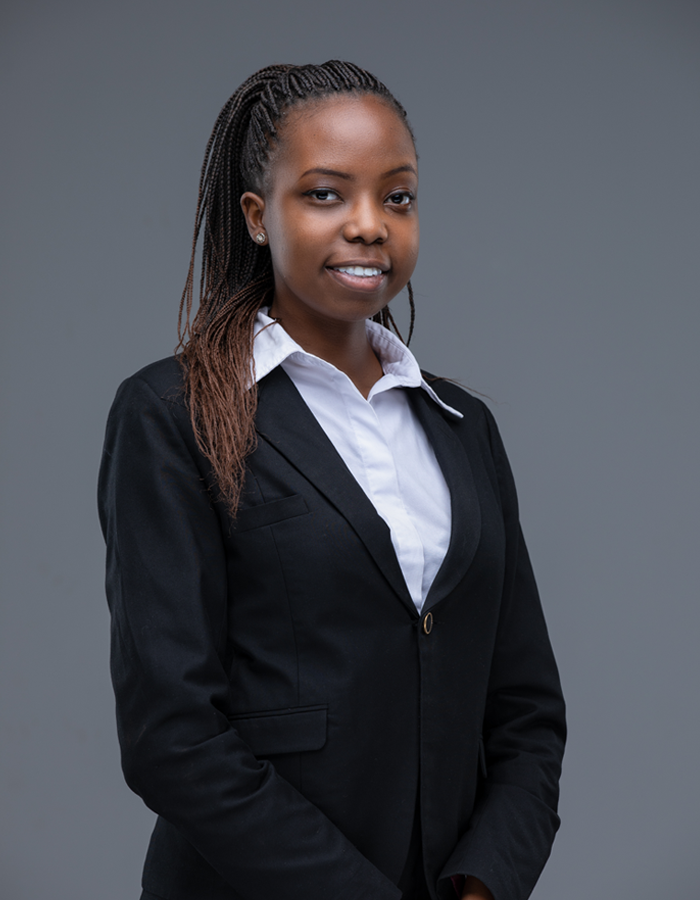 Janice Celine Nantumbwe
EA to Kenneth Muhangi  
Junior Associate
[email protected]
+256 7780 392 177
[
LLB (MUK) (Hons), Dip L (LDC) (First Class Honors)
Janice Celine Nantumbwe is a legal practitioner specializing in Technology, Media, Telecommunications, and Intellectual Property law. With expertise in data protection and privacy, telecommunications, payment services, financial technology, and software contracts, she offers comprehensive advisory services in data protection, copyright, trademark, and patent matters. Janice also possesses a keen interest and experience in policy lobbying and creation.
Janice holds a Bachelor of Laws from Makerere University and a diploma in legal practice from the Law Development Center. Her certifications include the McKinsey Forward Program from McKinsey and Co and Software Licensing from the World Intellectual Property Office.
Currently serving as a Junior Associate and Executive Assistant to the head of the partner of the Technology, Media, Telecommunications, and Intellectual Property Practice Group at KTA Advocates Uganda, Janice handles a wide range of responsibilities. She is involved in drafting and reviewing data protection policies, advising on data protection matters, and preparing intellectual property policies, copyright licensing agreements, and trademark registrations among others. She also offers guidance on patent applications and assists with market entry and the acquisition of licenses for e-commerce, payment services, telecommunication, and technology companies.
Janice's contributions extend beyond legal expertise. She actively engages in law reform and policy creation on intellectual property and the digital economy. Additionally, she prepares legal alerts and sector-specific legal toolkits and coordinates conferences, webinars, and engagements aimed at disseminating knowledge about intellectual property law and policy. Janice is skilled in client relationship management, business development and liaising with regulatory bodies,
Janice has been actively engaged in key engagements, including the preparation of an Intellectual Property Policy for the Ministry of Information, Technology Communication and National Guidance (MoICT & NG), organizing the KTA Annual Symposium on Intellectual Property and Digital Inclusion, and providing advisory services on cross-border data transfer and intellectual property policy preparation for organizations such as GroFin Uganda Limited, GroFin SGB (Uganda) Limited, and KCB Bank.
Janice has conducted several training sessions, and panel discussions, and participated in webinars focusing on various legal topics such as contracts in the financial service and digital space, liability of Internet service providers, intellectual property, and data protection.
PUBLICATIONS
'Policy Paper on Uganda's Digital Economy: An Overview of Uganda's Digital Trade, Technology, Telecommunications, and Media Sectors'. Available at https://www.ktaadvocates.com/category/thought-leadership/